For some reason I am fretting about having to write down all the recipes I like and specially those I grew up with.  My mom made a great Lengua with Mushrooms that we would have every Christmas (and birthdays sometimes) and my lola had her own version too.  But it is my lola's Lengua Estofada that I find I like more now.  Maybe the mushroom sauce just got too creamy for me?  Maybe I just need to cook the mushroom version again to remind me of how good it is.  In any case I think I had better write the recipe down, so I don't forget.  Reminder to send a list over to my sisters and brother…

Last weekend we got the last tongue at the butcher's.  It is smaller than I remember we had it in Manila. Cleaning it is a chore and a bit yukky, but J was nice and finished off what I started.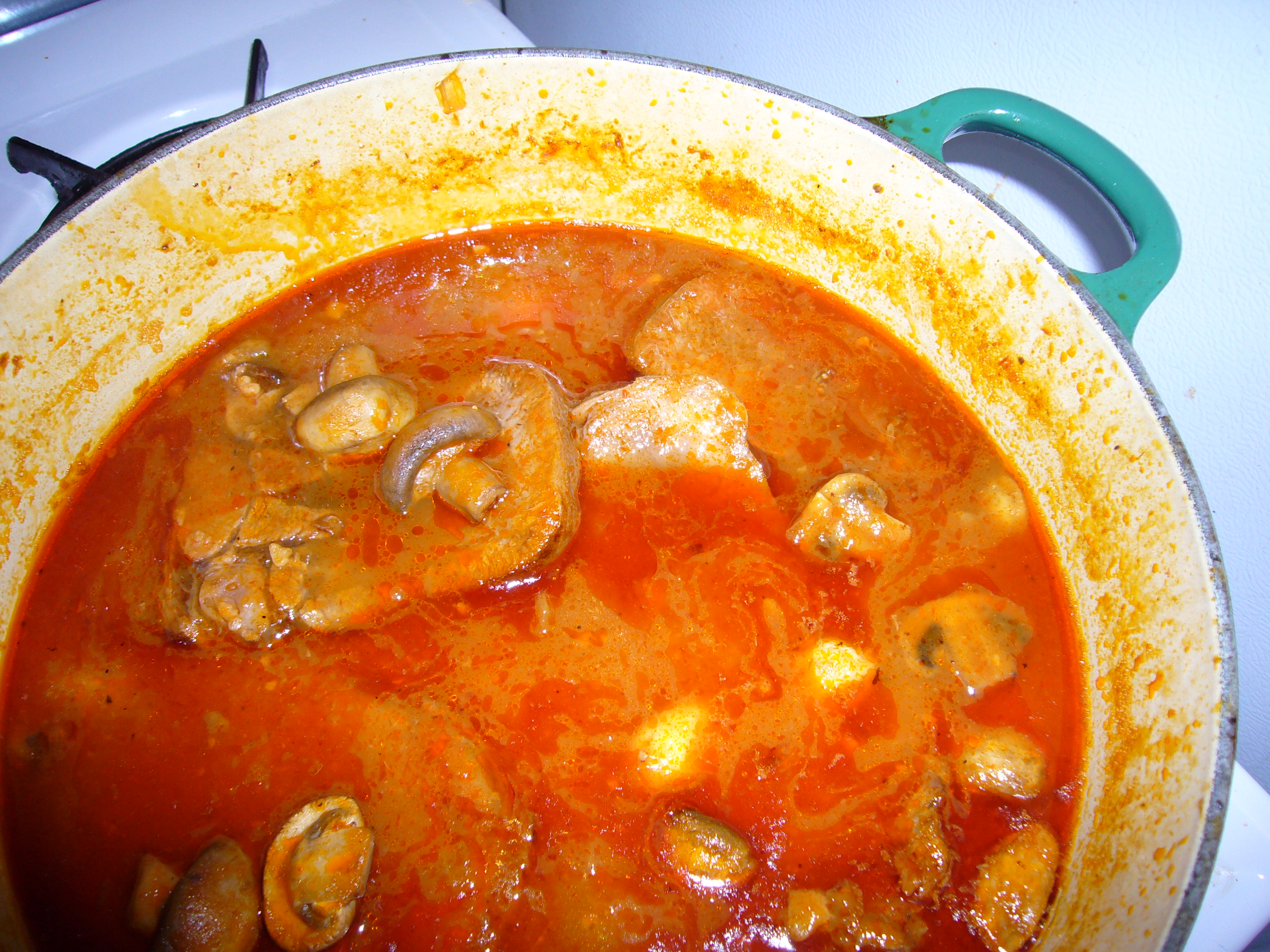 Ingredients:
olive oil
1 lengua/beef tongue (about 3lbs)
1 small can tomato paste
¼ to ½ c white wine
4 tsp chopped garlic
1 large white onion, chopped
½ tsp peppercorns
2 tsp salt or 2 tbsp Knorr seasoning / soy sauce
A bit of worcestershire sauce if you want
1 lb mushrooms (brown or white), slice each into 2 if they are large
about 16 green olives
1 russet potato cut into ½" thk wedges, or some little potatos, halved
Instructions:
Boil water in a pot or dutch oven large enough to fit the entire lengua.

Place lengua in boiling water for 10-15minutes.

Remove and rinse in cold water.

Cut white outer layer from tongue.
Brown the tongue in olive oil in a dutch oven.

Add garlic, onion, wine, tomato paste, salt/Knorr, and pepper, and cover with water.

Boil, then simmer until tender (about 2 1/2 to 3 1/2 hours, judge by forking the meat).

Remove tongue and slice into 1/3" thick pieces.

Set aside.

Fry potato slices in olive oil until golden brown.

Set aside.

Fry mushrooms in olive oil.

Set aside.

Season the sauce, add olives, simmer to thicken.

Thicken with a roux if you want.

Add mushrooms and potato slices, cook for about 3-5 minutes.

Arrange lengua on plate and pour sauce over OR return lengua to sauce and simmer for a few more minutes.