Feel free to cross post.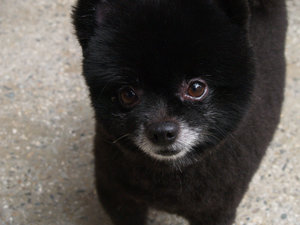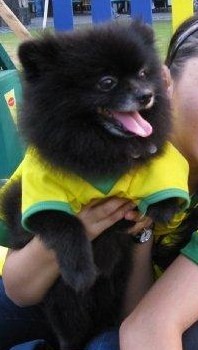 We'd like to seek your help please.
Our dog Cocoa, a 6-year-old black Pom, went missing last March 9, 2009 in Paranaque. We believe he was stolen as he had a collar and a dog tag with his address when he disappeared, but nobody's come forward to bring him home. We've reported the incident to our barangay, and have been desperately trying to find him since. In the course of our search, an ice cream vendor informed us that a vehicle had been spotted stealing dogs from homeowners.
There's been recent development about our dog's disappearance. Last Sunday, we received word somebody saw our dog being sold in a rundown pet shop called Bravo Poultry and Supply along Lopez-Sucat, Paranaque (near Liana's) 4 days prior. My friend visited the said store immediately to pretend to have seen the dog and to buy him. But he was told by the person manning the pet store that they already sold the dog 2 days prior for 10k. My friend managed to get info that the dog they sold did not have papers. We suspect this may really have been our dog because it seemed so unlikely that this pet shop would have a black pom while the other dogs there did not have any pedigree. Also, the location is quite dubious because we live in a neighboring village.
We suspect the buyer may try to use our dog for stud services or what have you. We are asking for your help in alerting your contacts, vets included, should they encounter our pet. We have begun e-mailing and distributing posters to vets in our area but we still have a long way to go. After all, the buyer may not be from Paranaque. We are not limiting our search to that area. Also, advertisements about a black male pom may surface in various pet websites so we've begun alerting the admins of these sites.
Moreover, the buyer may want to get in touch with us. Our dog has an enlarged heart. The buyer was misled into thinking he bought an otherwise healthy dog and may not know the dog he bought is in need of medical care.
We hope you can help us keep an eye out for him, maybe by blogging about it also? We really do care for our dog and treat him as a member of our family.
Thank you
Please contact trina992590 AT yahoo DOT com
Here are more photos of Cocoa.