Dear friends,
Bear with us as we share
this photo of Reno
with you. This was taken last October 3. He was rescued in Cubao by PAWS volunteers Daisy Medel and Joe Claret. Reno was found huddled by the side of the street with a bloodied face. He had tumors on his face and his body also bore marks of neglect and abuse.
Under the caring hands of Dr David Arceo, the dog whom we did not think would survive, had shown dramatic improvement. (see photos dated October 20 below)
We call Reno our "Miracle Dog" because, unlike Romeo/Juliet, we did not send out an alert since the prognosis was not very good. Rescuers were advised to pray and hope for the best.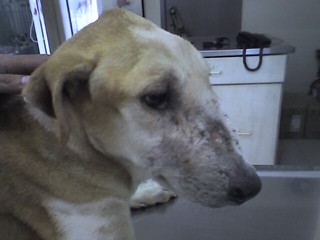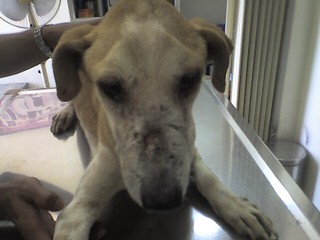 Last week, Dr Arceo texted us with this message: "This dog continues to surprise. The other eye which I thought was completely blind and hopeless, is now a feasible, seeing eye! He is now on his second round of chemotherapy.."
Dogs with special medical needs like Reno are not included in the PAWS Shelter's monthly budget /overhead cost of P80,000 (about $1,800).
Please help us continue Reno's treatment by sending financial support to:
Account Name: The Philippine Animal Welfare Society (PAWS)
Bank: PNB
Account Number: 072-830174-0
Donors may fax a copy of their validated deposit slips to 724-1986 and indicate their mailing address on the slips so that we can send official receipts.
Donors may also call Dr. David Arceo at Companion Animal Clinic, Antipolo, Rizal tel 6682050 to ask about what other medicines they can sponsor.
Thank you.
-The Philippine Animal Welfare Society (PAWS)