Over the past few weeks, several dogs taken in or rescued by PAWS were found to be in need of special medical care: there's Iris and Lady who are both being treated for heartworm, John Lloyd for liver problems, Malcolm for severe demodectic mange.
Fortunately, all these dogs have gotten sponsors somehow for their treatment.
Yesterday morning, after a week of waiting to be rescued, "Romeo"- a thin dog with an injured leg roaming in the Greenhills area – was finally taken into the PAWS shelter.
Rescuers had to shuttle him from the PAWS clinic to a clinic with an x-ray. Romeo – sweet dog though he was- was in such pain, his snout had to be tied to keep him from biting the gentle hands which held his injured leg against the x-ray machine.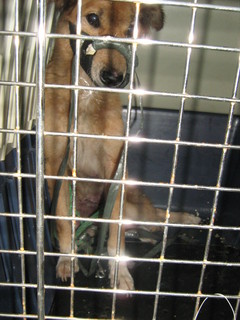 When the x-ray came out, it was obvious now why Romeo was in great pain: his hind leg was broken clear into two (see attached x-ray). Romeo needs to have a bone-pin operation that PAWS would be unable to afford.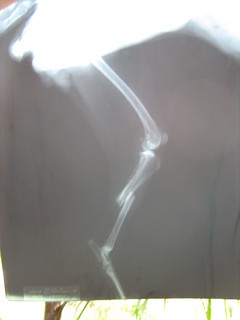 Our choices:
1. leave him to heal on his own while giving him pain-killers. His bones will eventually fuse but he will be walking with one short hind leg for the rest of his life.
2. get him that bone-pin surgery he needs by asking help from supporters
We decided, of course, to try course of action #2 first by posting this message. Approximate cost of the operation is P15,000 (or perhaps less if we get some kindhearted veterinary surgeon to just charge us the cost of the meds and surgical materials)
Please, if any of you who are subscribed here would want to pitch in to help with Romeo's surgery, send us a email indicating the amount that you pledge to deposit to our PNB account on or before September 30, 2008.
Account details:
Account Name: The Philippine Animal Welfare Society (PAWS)
PNB Current Account No. 072-830174-0
PNB Branch: PNB Financial Center (Main Branch)
*important: please send email first indicating the amount and when the deposit will be made or send us validated deposit slip via fax 475-1688 with the note- "For Romeo" plus your name and mailing address- where we can send the official receipt.
Thank you.
-The Philippine Animal Welfare Society (PAWS)
You may also email us at philpawsATyahooDOTcom
or call up PARC (the PAWS Shelter) at 475-1688.
________________________
Update:
Our heartfelt thanks to those who responded immediately to Romeo's case.
We were able to gather the quoted amount of P15,000 within only three (3) days from posting the alert. We had to inform the others who wanted to donate that the full amount has already been gathered by yesterday,Sept 29,2008:
Thank you to these angels who were the first to give their pledges:
1. Peachy S – P2,000
2. Popi L – P2,000
3. Adele F – P4,000
4. Elizabeth F – P8,000
Thank you to those who got in touch with us later wanting to send more but we would like to advise them to please hold on to their donations first until we get further updates from Dr. Nielsen Donato of Vets in Practice next week.
Dr. Donato says Romeo is not yet fit for surgery and they would have to see if he will improve in 5 days. What they did for the meantime is realign the broken bone (while dog was sedated) and bandaged it. They will see if the bone will fuse or heal correctly on its own.
We will update all donors and provide an accounting of the vet bills and payments.
PAWS would also like to thank Ms. Sue H who pledged to shoulder the hospitalization bill for Romeo's first few days at Vets in Practice ( from Sept 26 up to Sept 29).
Thank you very much, in behalf of Romeo.
God bless all of you!
-The Philippine Animal Welfare Society