Archive for the 'desire' Category
Over the past few weeks, several dogs taken in or rescued by PAWS were found to be in need of special medical care: there's Iris and Lady who are both being treated for heartworm, John Lloyd for liver problems, Malcolm for severe demodectic mange.
Fortunately, all these dogs have gotten sponsors somehow for their treatment.
Yesterday morning, after a week of waiting to be rescued, "Romeo"- a thin dog with an injured leg roaming in the Greenhills area – was finally taken into the PAWS shelter.
Rescuers had to shuttle him from the PAWS clinic to a clinic with an x-ray. Romeo – sweet dog though he was- was in such pain, his snout had to be tied to keep him from biting the gentle hands which held his injured leg against the x-ray machine.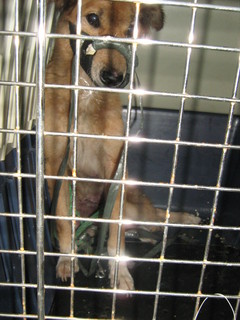 When the x-ray came out, it was obvious now why Romeo was in great pain: his hind leg was broken clear into two (see attached x-ray). Romeo needs to have a bone-pin operation that PAWS would be unable to afford.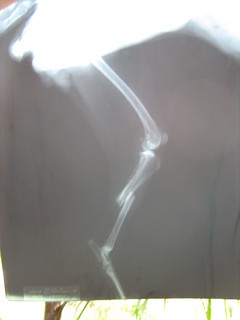 Our choices:
1. leave him to heal on his own while giving him pain-killers. His bones will eventually fuse but he will be walking with one short hind leg for the rest of his life.
2. get him that bone-pin surgery he needs by asking help from supporters
We decided, of course, to try course of action #2 first by posting this message. Approximate cost of the operation is P15,000 (or perhaps less if we get some kindhearted veterinary surgeon to just charge us the cost of the meds and surgical materials)
Please, if any of you who are subscribed here would want to pitch in to help with Romeo's surgery, send us a email indicating the amount that you pledge to deposit to our PNB account on or before September 30, 2008.
Account details:
Account Name: The Philippine Animal Welfare Society (PAWS)
PNB Current Account No. 072-830174-0
PNB Branch: PNB Financial Center (Main Branch)
*important: please send email first indicating the amount and when the deposit will be made or send us validated deposit slip via fax 475-1688 with the note- "For Romeo" plus your name and mailing address- where we can send the official receipt.
Thank you.
-The Philippine Animal Welfare Society (PAWS)
You may also email us at philpawsATyahooDOTcom
or call up PARC (the PAWS Shelter) at 475-1688.
________________________
Update:
Our heartfelt thanks to those who responded immediately to Romeo's case.
We were able to gather the quoted amount of P15,000 within only three (3) days from posting the alert. We had to inform the others who wanted to donate that the full amount has already been gathered by yesterday,Sept 29,2008:
Thank you to these angels who were the first to give their pledges:
1. Peachy S – P2,000
2. Popi L – P2,000
3. Adele F – P4,000
4. Elizabeth F – P8,000
Thank you to those who got in touch with us later wanting to send more but we would like to advise them to please hold on to their donations first until we get further updates from Dr. Nielsen Donato of Vets in Practice next week.
Dr. Donato says Romeo is not yet fit for surgery and they would have to see if he will improve in 5 days. What they did for the meantime is realign the broken bone (while dog was sedated) and bandaged it. They will see if the bone will fuse or heal correctly on its own.
We will update all donors and provide an accounting of the vet bills and payments.
PAWS would also like to thank Ms. Sue H who pledged to shoulder the hospitalization bill for Romeo's first few days at Vets in Practice ( from Sept 26 up to Sept 29).
Thank you very much, in behalf of Romeo.
God bless all of you!
-The Philippine Animal Welfare Society
Bronx grapes, $4 a pound. More honey than grape really
Dr. Martens oxfords, $12. They'll go nicely with my color tshirts and jeans.
Those American Apparel tri-blend track shirts.  They're like those old shirts your mom would want to turn into trapo but you kept hanging on to even if they turned transluscent because they were to comfiest comfiest.  But prettier.
I want all the colors yata.  Tangina 20bucks isa, they cost more than most of my button downs.  I think I'll get them from here.
Friday, J and I decided to play hooky and get a headstart on the Labor Day sales so we headed off to the Vacaville outlet stores. J was particularly interested in checking out the Burberry outlet store (their suits fit him perfectly, but he is a 40L and for some reason there are hardly any of this size suits on sale…) and I was looking for a jacket to replace my Nice Collective Holey Armpit jacket. You see, I just realized that in most of my photos I am wearing this…and it really is battered.
We left SF at around lunchtime so we decided to pass by Vallejo to get some lunch. And I saw online that Sonoma Blvd had a lot of pinoy places so we headed there and ended up at Goldilocks for lunch. Not my first choice but apparently I had chosen a place that closed and was now a mattress store or something like that. So Goldilocks it was, and they had a portion of the restaurant as Ongpin express and we had the 2-ulam meals (bistek, kare kare, lechon paksiw, lumpia) but the highlight of this meal was the platter of chicharon bulaklak we ordered as an afterthought. Vein chilling joy.
Truthfully, I don't think outlet shopping gives me the thrill I imagined it would. After going around the entire place I left with 2 lightweight jackets ($25 each) and 2 dresses (grey and black, both for about $30) from the Gap. You know, I think I am getting a renewed fondness for this shop, they just have the generics I like.
Oh and a bag of pretzels and maui-onion-horseradish dip that we ate while sipping some gatorade sitting on the grass in a hidden shady place we discovered, while we waited for our hothothot car seats to cool down.
Going back, as I saw the fog rolling in to cover us, I felt like cheering.
P.S. We reheated the chicharon in the oven 3 days after, and it's still goodgood.
I'm in a food mood (when am I not anyway?) so I'll tell you about some goodies I found at the shops.
Sounds a bit like bufala, and yes it is mozzarella. But better. Think mozzarella in bag form, filled with cream and soft mozzarella chunks and other fatty goodness. One of my SILs orders this at restaurants but J and I have never bought it because it always came in about a pound-size, for say 14 dollars…which we would have sprung for if we thought our bodies could take it. I seriously think we would get sick from eating half a pound each.
When we were at Rainbow Grocery today J found a small pack of burrata. About a quarter pound, for less than 3 dollars. So together with the heirloom tomato and basil in our CSA box, some organic mission olive oil (also from Rainbow, the best tasting reasonably priced one in the grocery, acc. to J), salt and pepper…
all that we needed was our Acme baguette to dip…and slurp slurp slurp.
Nothing elaborate, just a square of the best tasting dark chocolate I think I've had. I'm a milk chocolate girl, but this one is so smooth I love it now. You can taste the dark chocolate, but it's not bitter at all, it has a creamy smooth taste, like just the right amount of milk was added. Acckk if you see this one be sure to buy it. If it costs more that 5 dollars (mine did) just close your eyes and stop buying coffee shop coffee for 2 or 3 days, its so worth it.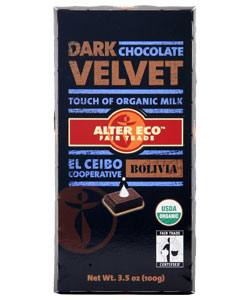 I've been quite good with my spending this month. Ive actually brought lunch most days, and have not made any clothes or shoes purchases (although those gold Tom's looked yummy ehhh).
I've been wanting to get a candle for our bedroom though, and so I walked to the nice store near my office and picked up a small candle Agar Wood too sexy that I've been wanting to get. And then today Dil, my coworker, and I went back to sniff all the others. Bad decision. Now I want the Fig, the Levende, the Black Tea (gorgeous) and even the Cassis. Auuugghh…
And I found some on sale! Go get one it is so worth it. (I bought the Mimosa and the Orange Tree)
Honestly if I made this I would add a bit more bacon, or tweak with it some more.  Its a good start though.